Admission and Costs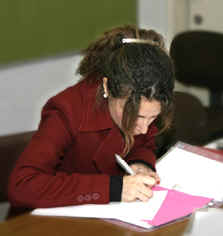 The Shaindy Rudoff track in Creative Writing (within the English Literature MA) accepts a diverse student body from around the world. We have welcomed students of all ages from Australia, Zimbabwe, South Africa, the United States, Canada, India, Ireland, Germany, Finland, Denmark, Brazil, the UK and, of course, Israel.

All applicants must have a Bachelor of Arts degree or equivalent. Students who did not major in English literature or a related field as undergraduates or graduates may be asked to take up to four prerequisite courses (hashlamot) from the Department of English Literature and Linguistics. Their cost is not included in the standard tuition fees.
Application may be submit by June 30th 2020.

Application Instructions
A. Step One: Applying to the Creative Writing Track
In order to apply, please be prepared with all of the following materials. By February 15, 2021, we will post for your convenience the link for applications for the 2021-22 academic year. We will begin to accept applications at that point.

Writing sample – 20-30 doubled-spaced pages in 12 pt. font for application to the fiction and creative non-fiction tracks (from separate works or one long work); or 10-15 poems for the poetry track.
Recommendation letters – Send via email two letters of recommendation from professors or employers. They must be on letterhead and signed.
Transcript – When you apply to the program, you must send us a transcript. It need not be official. HOWEVER, if your application is approved by the program, you must then submit an OFFICIAL TRANSCRIPT to the MA committee for all your undergraduate and graduate work. This transcript should be submitted directly to the MA office.
Email address: barilanwriting@gmail.com
Should you receive a notice of acceptance from the Department of English, you must then apply to the Bar-Ilan University MA committee. Please do not apply to the MA committee without being first accepted by the Department.
B. Step Two: Applying to Bar-Ilan University's MA committee
After receiving departmental recommendation, please file the MA application in English, right here https://inbar.biu.ac.il/Register/EditUser.aspx?formid=210 along with application fee
https://biuinternational.com/admissions/tuition-fees/
NOTE 1: under the section called "Maslul Limudim", you should fill in the following: MA with Thesis,
מסגרת לימודים: לימודי תואר שני; היקף: מסלול א' (עם עבודת מחקר); מחלקה: בלשנות וספרות אנגלית; מגמה: ספרות אנגלית עם תיזה
Costs
Application Fee: NIS 457 or equivalent.
Tuition: The tuition for Israelis is determined by the Government of Israel. Students are charged according to the number of classes they take each semester. At the end of the two-year period, the initial summer workshop is considered part of the tuition. If a student does not finish the thesis within two years, s/he must ask for an extension from the M.A. Committee and pay at least another 10% of the annual tuition for that year.
If a student is required to take extra, prerequisite courses (hashlamot) due to a lack of background in English literature at the undergraduate level, the tuition will be higher.
In addition to tuition, students coming from abroad must consider the following expenditures:
Transportation to and from Israel;
Housing

Health insurance

Food- hot kosher meals can be purchased at the University cafeteria for approx. $8-10;
Transportation - A one hour round trip bus ride from Jerusalem costs approx. $9;
A 20-minute round trip bus ride from Tel Aviv costs approx. $3.50;.
For new immigrants to Israel: In the past The Jewish Agency has paid full or partial tuition for new immigrants. Please consult with The Jewish Agency and The Student Authority for their current policy.
Click here for the Ministry of Immigrant Absorption. The Association of American and Canadians in Israel (AACI) is also a good source of information for immigrant students.

Stipends: Bar-Ilan University offers a few tuition scholarships to students on the basis of merit during their second year. For more information, email barilanwriting@gmail.com.