Applying to the Program & Costs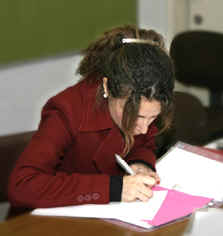 The Shaindy Rudoff Graduate Program in Creative Writing (within the English Literature MA) accepts a diverse student body from around the world. We have welcomed students of all ages from Australia to Zimbabwe, The Netherlands, Egypt, Germany, Finland, Denmark, Brazil, the UK, South Africa, the United States, Canada, India, Ireland, and, of course, Israel.

All applicants must have a Bachelor of Arts degree or equivalent. Students who did not major in English literature or a related field as undergraduates or graduates may be asked to take at least two  prerequisite courses (hashlamot) from the Department of English Literature and Linguistics. Their cost is not included in the standard tuition fees.
Applications must be submitted to the department by September 1st, 2023.
You are invited to write to Prof. Marcela Sulak with questions about the Creative Writing Program at barilanwriting@gmail.com.
Application Instructions
Important Notice: Before your application can go to the Bar-Ilan University MA committee, it must first be approved by the Department of English Literature and Linguistics. Those who register through the university without being approved by the Department of English Literature and Linguistics will not be refunded the initial registration fee if they are rejected by the department. 
A. Step One- Apply to the Shaindy Rudoff Graduate Program in Creative Writing (Fiction, Creative Nonfiction, Poetry, Literary Translation)
In order to apply, please be prepared with all of the following materials. All materials will be uploaded on Slideroom. To apply for the 2023-24 academic year, please click the following link: https://englishbiu.slideroom.com 
Writing sample:

For application to the fiction and creative non-fiction tracks: a writing sample of 4000-5000 words (from separate works or one long work).

For application to the poetry track: 10 poems.

For application to Literary Translation:

A translation into English of 2500-3000 words of prose or 10 poems from any language + the original work in another language 
A 150-250 word explanation of the translation, in which you can tell us about the author, the significance of the piece, any translation challenges you had and how you overcame them, why you chose this work, or whatever else you'd like to share with us.
       2. Recommendation letters: Two letters of recommendation from professors or if unavailable, from employers. They must be on letterhead and signed.
       3. Transcript: When you apply to the program, you must send us a transcript. It need not be official. HOWEVER, if your application is approved by the program, you must then submit an     OFFICIAL TRANSCRIPT to the MA committee for all your undergraduate and graduate work. This transcript should be submitted directly to the MA office. 
B. Step Two- Apply through the University's General Online Application
Should you receive a notice from the Department of English Literature and Linguistics recommending your acceptance, you must then apply though the university's general online system. You can do so by filling out this form in English and can pay the application fee here- https://biuinternational.com/admissions/tuition-fees/.
NOTE : Under the section called "Maslul Limudim", you should fill in the following: MA with Thesis- Creative Writing Program
מסגרת לימודים: לימודי תואר שני; היקף: מסלול א' (עם עבודת מחקר); מחלקה: בלשנות וספרות אנגלית; מגמה: ספרות אנגלית עם תיזה במגמת כתיבה יוצרת
Last day to apply through the department: June 30, 2023
Last day to apply through the university's online registration: August 31, 2023
Costs
Application Fee: NIS 457 or equivalent.
Tuition: The tuition for Israelis is determined by the Government of Israel.  
Please contact the Tuition Department for any and all tuition questions, or click here to read more on their website. For a rough estimate, tuition costs are about 17,500 a year for Israeli residents, not including hashlamot/ prerequisite courses. This estimation is for planning purposes only, and it will vary. We ask that you only rely on information provided by the Tuition Department.
For new immigrants to Israel: In the past The Jewish Agency has paid full or partial tuition for new immigrants. Please consult with The Jewish Agency and The Student Authority for their current policy. Click here for the Ministry of Immigrant Absorption. The Association of American and Canadians in Israel (AACI) is also a good source of information for immigrant students.
For international students who are not Israeli citizens: Please contact Bar Ilan's International School for more information. You can click here to visit their website.
Stipends: Bar-Ilan University offers a few tuition scholarships to students on the basis of merit during their second year. For more information, email barilanwriting@gmail.com.