Student Voices
Scroll down for student profiles.
Facebook
You can learn more about the many wonderful people associated with the Shaindy Rudoff Program by visiting our Facebook site at http://www.facebook.com/profile.php?id=1471764703&ref=ts
The Ilanot Review
puts out two online issues a year to provide a platform for English writing in Israel in general, and students and graduates of the Shaindy Rudoff Graduate Program in Creative Writing in particular.
Please go to http://ilanot.wordpress.com/
Blog
Writingfromisrael.blogspot.com is the Shaindy Rudoff Program's forum for writing about cultural activities in Israel.
Student Profiles
Caitlin McCormick received her BA from Sarah Lawrence College in New York where she majored in creative writing. She came to Israel in 2006 as a writer with a Christian heritage. Her fiction is influenced by her spiritual explorations as well as the religious studies she undertook at Sarah Lawrence. After completing the Program at Bar-Ilan, McCormick returned to live and write in Texas.
Tammara Or Slilat was born in 1960 in Tel Aviv, Israel. She graduated from Thelma Yelin High School for the Arts in Plastic Art and served in the army as a commander in the Nahal. In 1984 she got her BA from Tel Aviv University in English Literature and Philosophy and later her teaching license. She published two books of poems in Hebrew in 1991 and 1994. In 2006 she graduated from a 2 year program for teaching creative writing by Matan and in 2008 started her MA in English Literature and Creative Writing in Bar Ilan University. She has published poems in various literary magazines such as "Kav Natui", "Mashiv Haruach", "Iton 77", "Shdemot", "Glittering Train", and e-zines such as "The Potpourri", "Transparent Words", "Caught in the Net" and more.
In addition to poetry Tammara is also an active painter and in 2004 she received the Jordan Valley Creativity Award for her poetry and painting.
She lives in moshav Arbel (near Tiberius) where she enjoys going for long walks in the fields that keep changing with the seasons and watching sunrise above the Kinneret. She teaches English in the Kaduri School, Lower Galilee.
Daniel Stieglitz grew up in Providence, Rhode Island, and received his BA in English Literature from Yeshiva University in 2004. After serving as Assistant Director of Admissions at Yeshiva University, Daniel made Aliyah to Israel in July 2007. He worked at Nefesh B'Nefesh as their Overseas Promotions Coordinator before joining the Israeli Army in May 2008, where he served as a combat medic. Along with attending classes at Bar Ilan, Daniel currently writes about his Aliyah experiences for the Jewish Voice & Herald of Rhode Island www.jvhri.org/category/jjournal/browse.html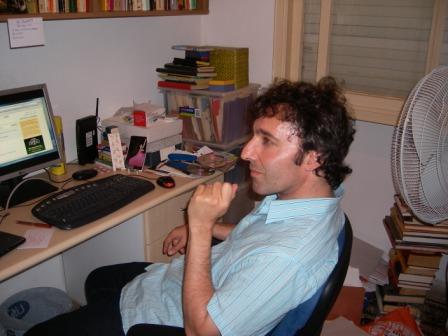 Daniel Weizmann was born in Israel and grew up in Hollywood. With his bar mitzvah money, he started the L.A. punk fanzine Rag in Chains, going on to write for L.A. Weekly, California Magazine, L.A. Reader, Jewish Journal, and others. He has contributed to several books including Hardcore California, and Too Cool, as well as several Mad Libs. Moving to New York City in the early 90's, Daniel edited Drinking with Bukowski, Timothy Leary's posthumous memoirs, and DeeDee Ramone's autobiography. He released two critically-acclaimed CDs which blurred the line between storytelling, comedy, and poetry. Today, Daniel lives in Tel Aviv. www.danielweizmann.com.
Bill Taeusch is a semi-retired neonatologist. His day job has included writing non-fiction: five textbooks and about 150 research papers. Over the years he has studied the craft of fiction and has published six short stories, four of which are included with others in a self-published book, Learning the Game, on Lulu.com. At present, he is working on a novel, Products of Conception, about an intelligent woman needing to decide whether death may be the lesser of two bad choices when her newborn infant faces a blighted life.
Gabriella Santoro was born and raised in New York City (third generation on her father's side and second on her mother's). She's currently a student in the Poetry Track of the Creative Writing Program at Bar-Ilan. Her poetry education also includes a semester at the Bowery Poetry Club and an intense summer in Boulder, CO attending the Jack Kerouac School's Summer Writing Program. She currently lives in Jerusalem with instantaneous access to The Shuk.