The Ilanot Review
Edited by graduates of our Creative Writing program,
The Ilanot Review
publishes poetry, fiction, non-fiction, translation, and hybrid work, as well as literary interviews. Established and emerging writers from anywhere in the world have been appearing on our electronic pages since 2009 in two themed issues a year.
From the Editor's Note: "In this issue, we wanted to ponder the ways that the stories and truths of our lives unfold through epistolary text. The work in this collection runs the gamut from "traditional" letter writing through 21st-century technology, from long expressive outpourings to the elemental symbolism of our smallest unit of communication: the very letters of our alphabets."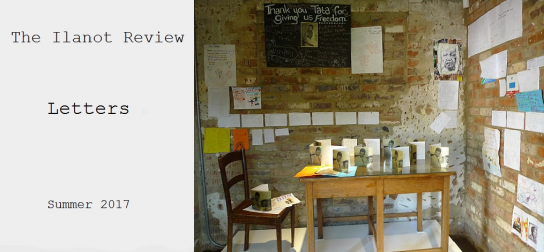 The Review Review writes:
"Online Mag Delivers Great New Writing From Israel"
Read the full review
here
.
Read Janice Weizman's interview about the journal's mission
here
.
Last modified: 27/09/2017